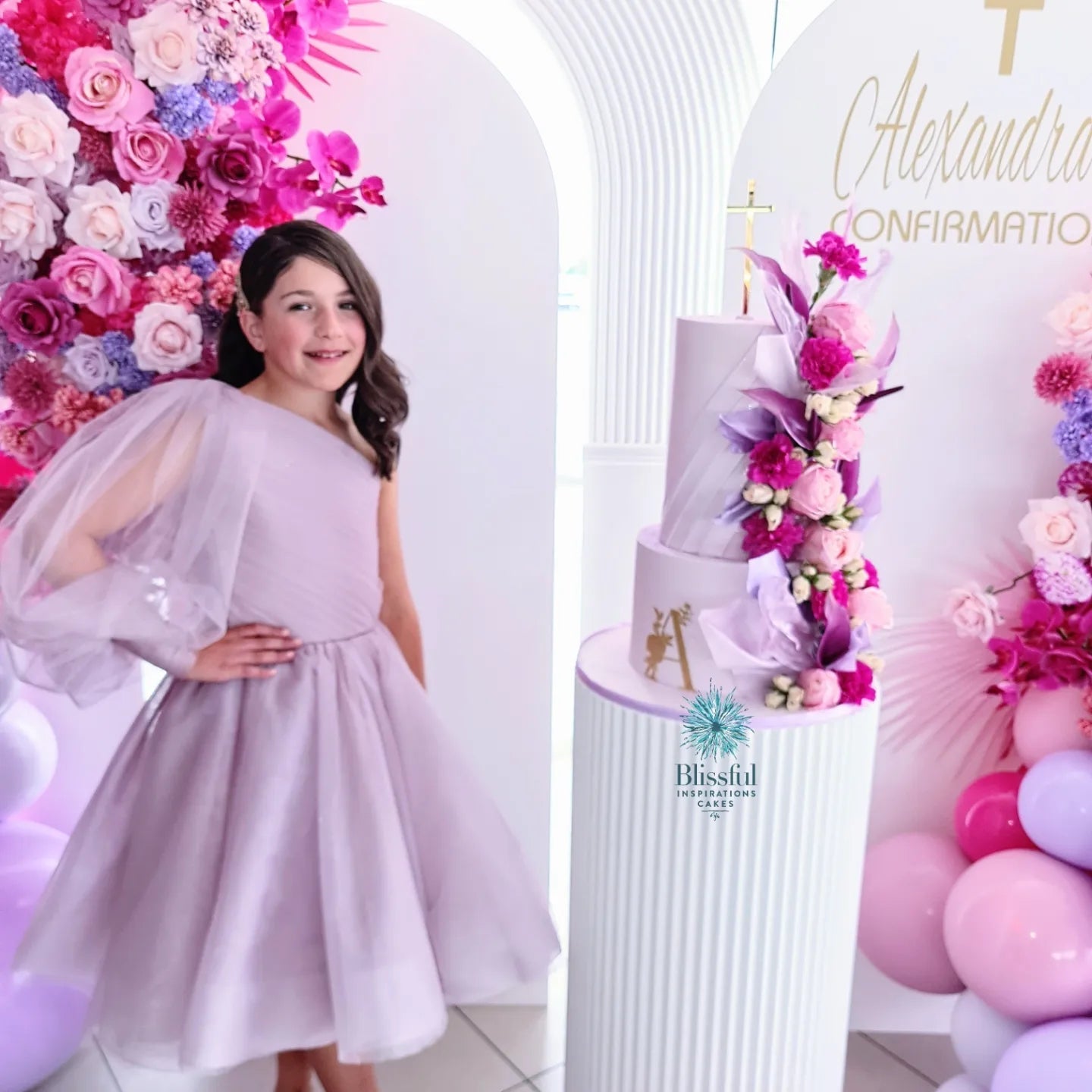 Alexandra's Stylish Confirmation Celebration
Eva and Alexandra visited our Atelier house to plan for Alexandra's Stylish Confirmation Celebration.  We tried on many styles and we finally settled on Abigail's Lux dress with some modifications.
With the help of mum Eva, Alexandra's Stylish Confirmation Celebration was planned for Alexandra- from her elegant invitations to gorgeous florals and a sumptuous feast at Melbourne Pelican landing. Superb venue by day, sizzling by night, and also offer a range of tailored event packages for unforgettable functions and events. With a vision in mind, the perfect fabrication was chosen for Alexandra gown- a pop of colour to match her stunning set up.
From the moment Alexandra tried on the 'Abigail' gown at our Atelier house, it was clear this stunning style was the favourite for her confirmation dress! Hence a truly simple style but with so much elegance was the perfect match for Alexandra's confirmation. Because the gorgeous lavender colour set the colour theme for planning the party . For Alexandra's stylish confirmation celebration, she chose a flattering one shoulder bubble sleeve gown. The pleated organza top and just above the knee. The length brought her look together perfectly, making a statements as well as hitting all the right notes.
Therefore a beautiful day celebrated with their dearest family and friends.  Alexandra said she felt very confident wearing her dress.
Congratulations to gorgeous Alexander on celebrating your confirmation.  May God bless her always!
Alexandra gown: Exclusively from @minitreasurekids
Cake: @blissfulinspirationscakes
Cake flowers: @australianflowergroup
Backdrop & florals: @lovealwaysevents_
Balloons: @marypopit_balloonsVenue: @Pelican landing