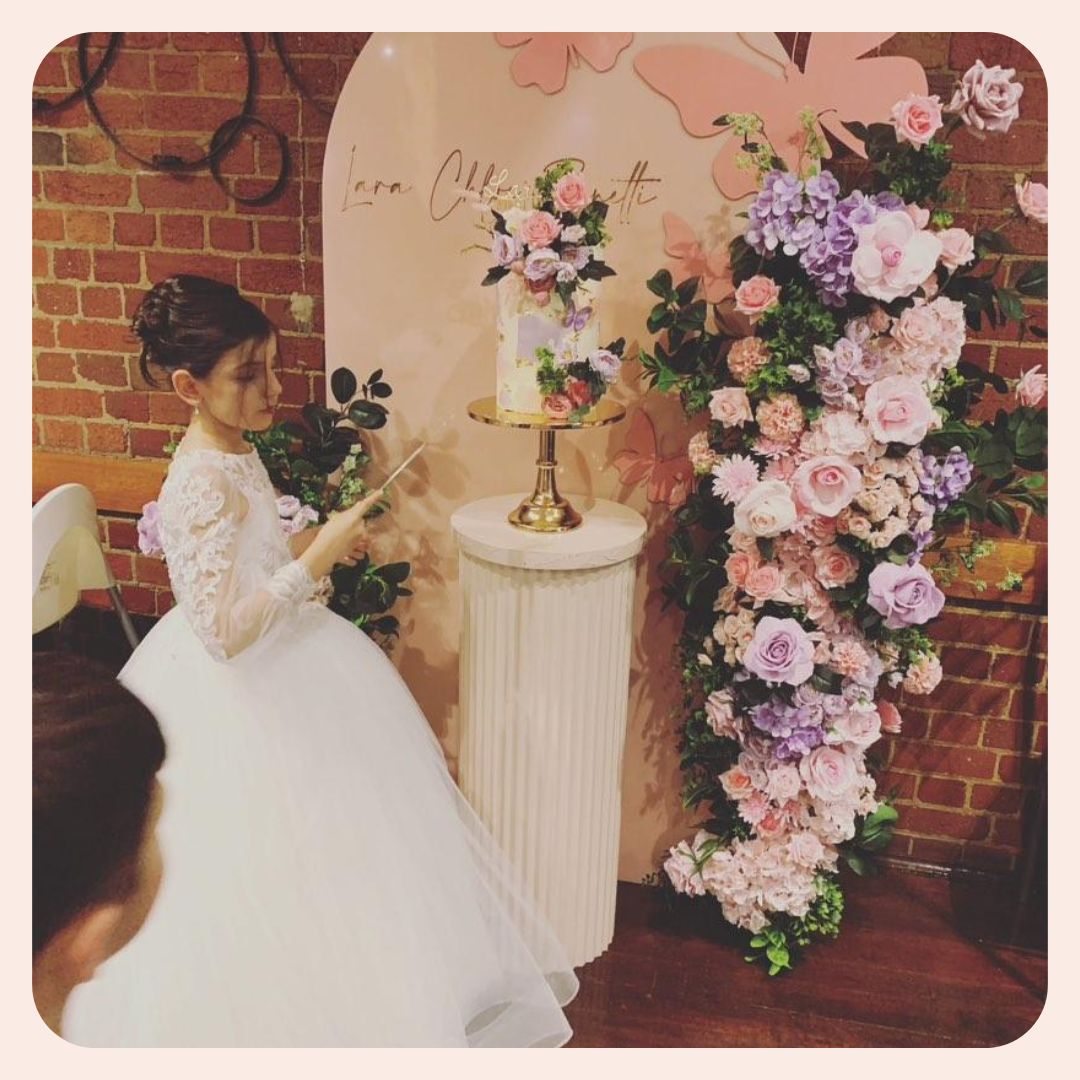 Lavish Lara's Holy Communion Celebration
Angela has been a member of the MTK family for a few years and visited our Atelier House in Brunswick west for Lara's upcoming Lara's Holy Communion Celebration. First, Communion is a significant sacrament because it marks the beginning of a child's journey in the Catholic Church. It is a celebration and a rite of passage that marks an important milestone in the child's life.
On average, girls wear a modest dress to their First Communion that covers the arms, legs, and head following the church they attend. Traditionally the dress is ivory and full length. More girls wear modern dresses that don't cover their arms. They usually wear a bolero in church and take off for all the other festivities. Importantly this sacrament is so important; it brings lifelong memories your child will remember forever.
In addition to this a beautiful celebration planned for Lara's Holy Communion Celebration Celebration - from her elegant invitations to gorgeous florals followed by a sumptuous feast at Melbourne at Palazzorestuarant
Most important from the moment Lara tried on the 'Tianna' gown at our Atelier House, it was clear this stunning style was the favourite! On this occasion the unique details and avant-garde design perfectly matched Lara and the styling details for her special day.
Congratulations to gorgeous Lara, may God bless her always!
Not to mention the beautiful vendors that help put together this amazing celebratiopn
Vendor Details
Lara gown: Exclusively from @Minitreasurekids
Stationery and Styling: @angelaZanetti-Oristi
Venue: @ Palazzorestuarant 
Florals: @alohaflowers
Prop Hire: @socialseason.events
Cake: @valbakes
Bombinere: @ angelaZanetti-Oristi
Invites: @ angelaZanetti-Oristi